Grants,
Programs,
& Gifts
Thanks to Our Generous Grantors:

Thank you to the many organizations that support Six Points with generous grants, reward programs, and gifts.
Our donors for 2021 include Gunnison County, Next Fifty Initiative, A.V. Hunter Trust, Community Foundation of the Gunnison Valley, City of Gunnison, the Anschutz Family Foundation, the Gunnison Home Association, and numerous other individuals.  THANK YOU so much for your continued support!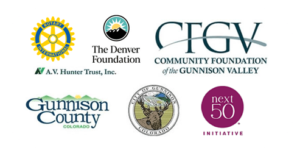 Thank you to the Community Foundation of the Gunnison Valley for supporting the services of Six Points. In July, they awarded funding to Six Points to help provide services for people with developmental disabilities. Please click their logo below to visit their website.
City Market Community Rewards
City Market Community Rewards donated $1001.96 to Six Points in 2016 with just 20 households enrolled, imagine our rewards if we could increase to 40 households, or 100?  For the year 2017, bring in proof that your value card purchases are supporting Six Points and we will give you a $5 gift certificate to spend in the Thrift Store.
Go to www.citymarket.com
Community Tab
City Market Community Rewards
Click Enroll Now
Sign In or Create an Account
Search for "Six Points" and Select "Six Points Evaluation & Training Inc" #10405
Click Enroll! It's that simple and it costs you, the valued cardholder, nothing!
Make sure that "Six Points" is under "Community Rewards" – You may need to scroll down the page to see it. It will also tell you how much your purchases have contributed to City Market's donations to Six Points!
All cardholders need to re-enroll every January

Six Points Provides

Education

Assistance

Training

Advocacy
Integration

Community