Six Points 2022 Quarter 1

Evaluation & Training
1160 N Main St      PO Box 1002    Gunnison CO 81230      (970) 641-3081     www.sixpointsgunnison.org
---
We're Ready for You, 2022
and are excited to be able to step up our community involvement again since Covid cases have remained low in our area.  We are thrilled to PARTNER with area organizations such as the Gunnison Food Pantry,  Sustainable CB, and Center for Mental Health to help them increase visibility of their services as they set up a display in our store from time to time. Our box truck is available every third Saturday at the Crested Butte Schools' parking lot to transport CB residents' donations back to our store in Gunnison.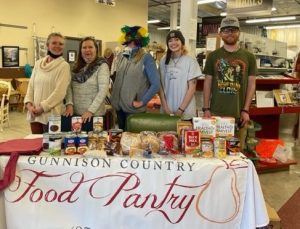 Pictured, left to right: Jodi, Anita, store manager; Sama, Danessa, Dusto
---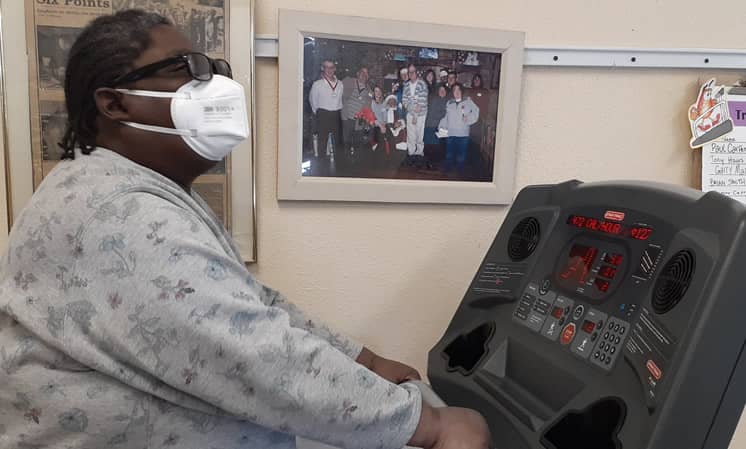 WINTER ACTIVITIES have kept clients learning and moving!  Special Olympics, Spirit Club virtual classes, in-house yoga classes, an in-house Treadmill Miles challenge, a moonlight Nordic ski, swimming at the rec center, and an outing to Salida, CO are a few of their pursuits.
 Pictured, above:  Angela; below: Donnie and Paul in Salida
---
WE SALUTE OUR SPECIAL OLYMPIANS!
Four skiers went to Sunlight Resort on February 11 & 12 for Regionals, and then to State competition at Copper Mountain on March 5 & 6. Ricky, Jeffrey, and Johnny competed in Nordic skiing events, and Tony competed in Alpine skiing. None of this would have been possible without the generous assistance of Adaptive Sports Center in Crested Butte, who helped facilitate training, transportation, and oversight of the winter Special Olympics program.  THANK YOU, ASC!!
Congratulations to Team Six Points!
Pictured below, top left: Ricky and Jeff; top right: Tony, Jeff, and Johnny;
bottom left: Tony; bottom right: Johnny.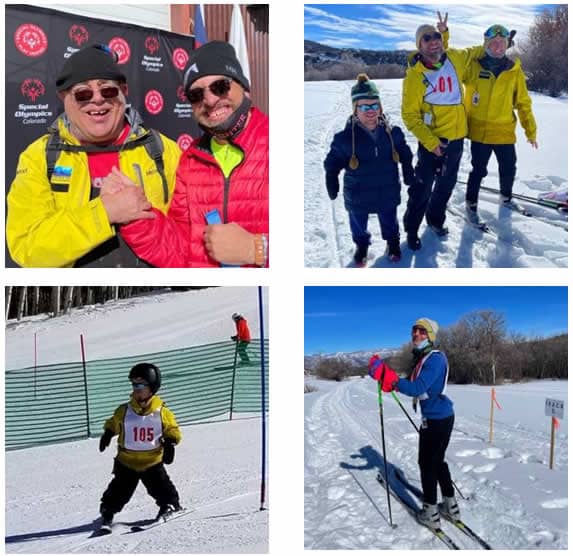 ---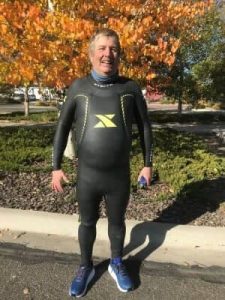 SHOUT OUT TO JOE DAY
Joe was chosen to go to Special Olympics NATIONALS in Orlando, Florida from June 5-12, joining a team of 96  other Colorado SO athletes going to the USA Games.  Joe will compete in a 1000yd open water swim and in an individual triathlon.  Six Points' own Brian Smith was selected to coach Joe's team.   We are so proud of you, Joe! Good luck!
Click here for link to Joe Day on SPECIAL OLYMPICS COLORADO website
---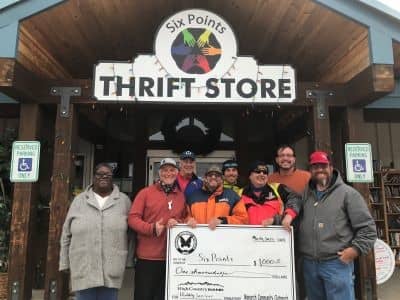 We are grateful to friends at MONARCH COMMUNITY OUTREACH for their recent gift to support Six Points.
Pictured, L to R:  Angela, Rick Boucher, Dan Bender, Tom, Brian, Joe, Daniel, and Jeff.
---
(Hmmm…as editor of the newsletter, WHICH profile picture should I choose for Daniel's DIRECTORS CORNER…gosh, it's a hard decision! Opinions?!)
DIRECTOR'S CORNER with Daniel Bruce – April 2022
IT IS SO GOOD TO BE BACK!!!  After a 2-year hiatus, my wife, 2 dogs, and I are humbled to be able to return to the Gunnison Valley. THANK YOU ALL for the warm welcome back to Six Points. It's wonderful to be working for this awesome organization once again.  If our paths have yet to cross since my return, please come in to say hello.  Otherwise, I'm sure it won't be too long.
Since we couldn't celebrate last year, I'm excited to announce that we will be having our Community AppreciationPicnic on Thursday, June 30, 2022, beginning at Noon, on the patio at Six Points.  I hope you will all come out and have lunch with us.  Six Points is celebrating their 40th anniversary (incorporated in 1981) and nearly 50 years since a group of citizens and parents volunteered their support to address the lack of services for individuals with developmental disabilities in Gunnison County.  
YOU MAKE OUR ORGANIZATION POSSIBLE!  Thank you again for all your support!
---
STAY TUNED:
April – Team Six Points begins play on City rec softball league
May –  14-15 Grand Junction Special Olympics Regionals
June – 17-19 Grand Junction Special Olympics State
             30th Six Points' Community Appreciation Picnic
---
Upcoming Events: 
Thanks to Our Generous Grantors: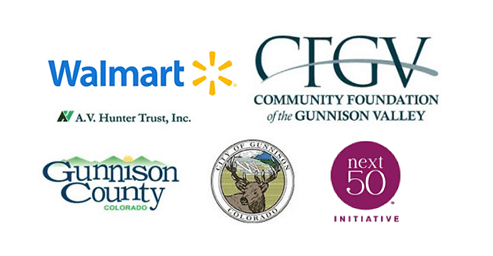 Opportunities to Donate:
Enroll in City Market's Community Rewards Program

Go to www.citymarket.com  to sign in or register an account
Click on "Account" located on the red band in the middle of the page
Scroll to the Bottom of the page to the Community Rewards Section and click "enroll now" or "re-enroll now"
You can either type in "six" or our # 10405 to choose Six Points as your organization. It's that simple and it costs you, the value card holder, nothing!
*All card holders need to re-enroll every January to support Six Points
---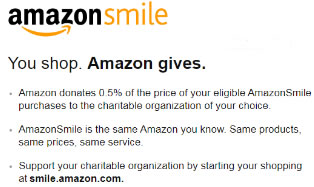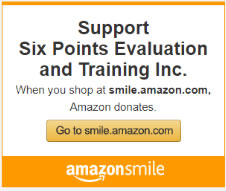 Copyright © 2022, Six Points. All rights reserved.

Six Points Provides

Education

Assistance

Training

Advocacy
Integration

Community