Six Points 2022 Quarter 2

Evaluation & Training
1160 N Main St      PO Box 1002    Gunnison CO 81230      (970) 641-3081     www.sixpointsgunnison.org
---
SIX POINTS CELEBRATED 40 YEARS
SIX POINTS CELEBRATED 40 YEARS since its incorporation in 1981 (actually 41, if you did the math—it's just that Covid delayed our celebration by a year).  On June 30th we had a grand celebration with friends and neighbors to say THANK YOU for all our community has helped accomplished these last 40 years. We enjoyed burgers, hot dogs, salads and ice cream treats, a trivia game with door prizes, and live music, and it all took place on our beautiful patio on site.
Below: Johnny enjoying the food, bottom left: Tommi; bottom right: board members Robin, Scott, and Nancy on the serving line.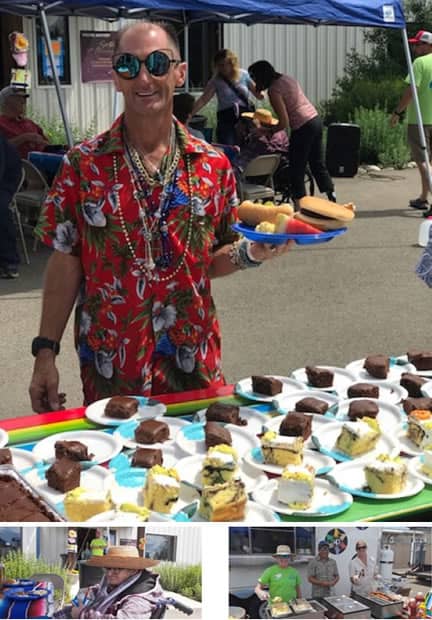 ---
SPECIAL OLYMPICS HIGHLIGHTS
Joe Day, his coach Brian Smith, and team members from Special Olympics Colorado traveled to Florida June 5-12 for NATIONAL competition.  Joe's events included a 1000m open water swim and a sprint triathlon (440 yd swim, 10.8 mi bike, and 5k run).  He and Brian enjoyed the venue at Disneyland, and had quite the hectic travel experience getting to and from the big event!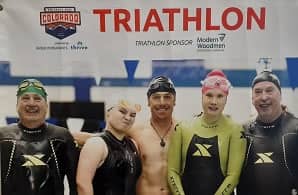 Pictured, L to R: Joe Day, Catherine, coach Brian Smith, Jamie, Greg
REGIONAL competition took place May 14-15, and STATE competition took place at Mesa State University in Grand Junction on June 17-19.  Events included track and field events and swimming.  Ricky was inducted into the Special Olympics Hall of Fame as he has participated in Special Olympics for the past 50 years.  Congratulations, Ricky, and all team members and coaches for an awesome Special Olympics season in 2022!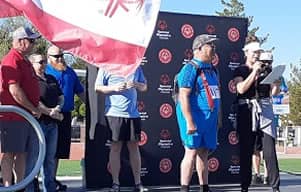 Pictured: Ricky during the induction ceremony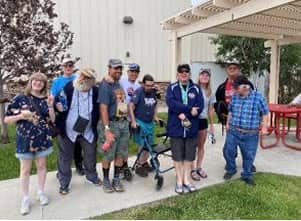 The whole crew, L to R: Eve, Donnie, Calvin, Jeff, Brian, Paul, Joe,
Katie, Ricky, Mark; not pictured Coach Kirk
---
OUT AND ABOUT….
Clients and staff continue to make the most of opportunities to explore Colorful Colorado.  April saw clients going to the Gator Farm (Alamosa) and Cave of the Winds (Manitou Springs); in May they road-tripped to Grand Junction for Bananas Fun Park and went bowling in Montrose; in June they traveled to Mount Princeton Hot Springs for the waterslides and a hot soak.  We are grateful that your support allows them to have experiences that so many others take for granted.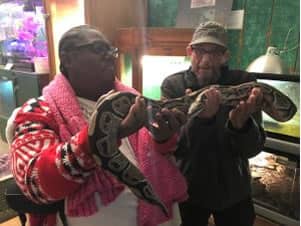 Pictured: Angela and Tom bravely holding a snake at the Gator Farm
---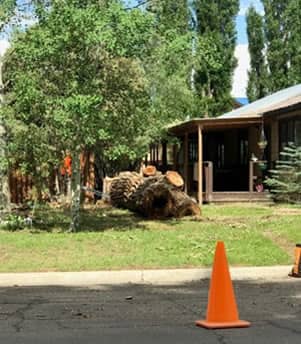 Thanks to a generous grant from NEXTFIFTY Initiative, Six Points was able to have two aging cottonwood trees at its North 12th Street client residence cut down, since they were posing a hazard to the residents and neighbors.
---
…the many faces of Daniel (continued):


DIRECTOR'S CORNER with Daniel Bruce – July 2022
Happy Summer, friends!!! It's summer in the Gunnison Valley again, and we are so grateful for the support of our community and so glad to see our many summer visitors and residents.
WHY I SERVE
Recently, I've noticed that if I happen to wake up on the "wrong side of the bed," all I have to do is come into Six Points and my mood changes for the better.  Seeing all the smiles on our clients' faces as they chant "Hi, Daniel!", it's hard not to smile, and brightens my day…EVERYDAY!  Growing up, I watched my dad provide service to others in need and I knew that would be my life.  His generosity changed many lives, and I knew that was how I wanted to spend my time on this earth.  I am grateful to be able to do that at Six Points and to watch the people we serve do things that they may not be able to do on their own; like learn to read, get a job, take continuing education courses, compete in athletic events, and travel nationally and internationally.  I HAVE AN AWESOME JOB and I look forward to it every day.
A HUGE THANK YOU TO the GUNNISON TIMES and JACOB who provided a great write-up about the 40th Anniversary in the July 7th edition.  If you have not read it, please do…we have copies at Six Points.  I'm always amazed at the story of how Six Points started and those that saw the need in providing services to individuals with disabilities in the valley and then did it!  Happy 40th, Six Points!  Here's to many more years of service!! YOU ALL MAKE IT HAPPEN!!
Best wishes for a wonderful summer from all of us at Six Points!!!
---
STAY TUNED:
July – Library Book Club on Fridays
August –  Activities with Adaptive Sports
September – Triathlon series
---
Thanks to Our Generous Grantors: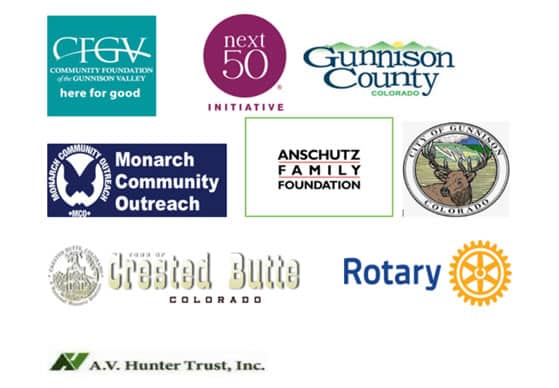 Opportunities to Donate:
Enroll in City Market's Community Rewards Program

Go to www.citymarket.com  to sign in or register an account
Click on "Account" located on the red band in the middle of the page
Scroll to the Bottom of the page to the Community Rewards Section and click "enroll now" or "re-enroll now"
You can either type in "six" or our # 10405 to choose Six Points as your organization. It's that simple and it costs you, the value card holder, nothing!
*All card holders need to re-enroll every January to support Six Points
---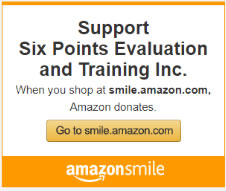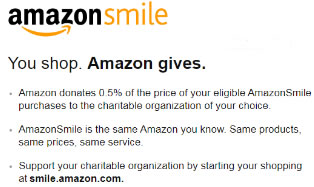 Copyright © 2021, Six Points. All rights reserved.

Six Points Provides

Education

Assistance

Training

Advocacy
Integration

Community