Evaluation & Training
1160 N Main St      PO Box 1002    Gunnison CO 81230      (970) 641-3081     www.sixpointsgunnison.org
---
Goodbye, 2022…
The much-anticipated holiday season passed so quickly! We treasured the opportunity to gather with family and friends during this special time and enjoyed the fun activities that brought us together.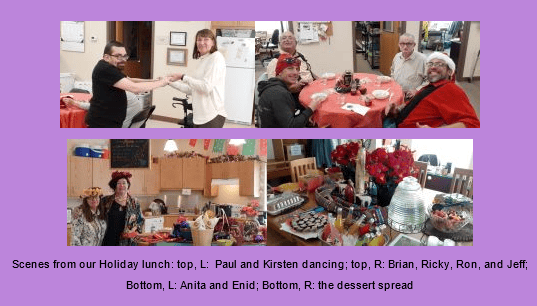 …and Welcome, 2023!
Winter is making its presence known with some snow and a spate of cold temperatures.  That means that our guys can get out their Nordic skis and get on the trails! We are excited for new adventures and experiences as we enter a new year.
---
ANNUAL AWARDS DINNER
The brand new Gunnison Library was the site of our annual Client Awards Dinner in October, 2022.  Catered by Garlic Mikes, family, friends, and staff were present to celebrate clients' individual accomplishments for the past year.   …what a wonderful fall evening at a beautiful venue to highlight the achievements of some special people!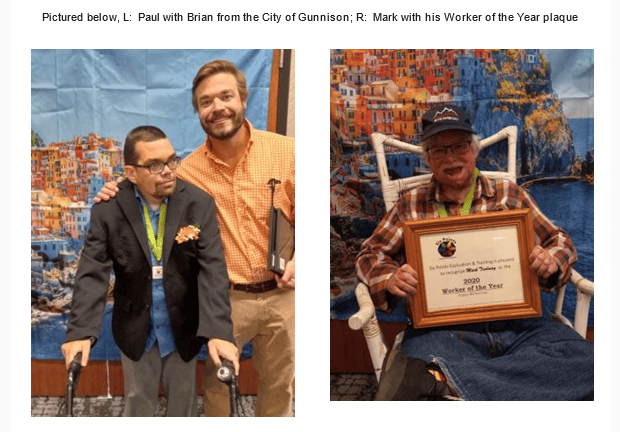 ---
The ANNUAL ART SHOW in early October was a festive and well-attended community event at the Gunnison Arts Center.  Clients used a variety of mediums to produce mostly two-dimensional art; one client wrote a radio-theater style play called "Murder in the Ice Cream Shop" which was produced by Mike Callihan and performed that evening in the Black Box Theater.  Thank you, Gunnison, for your support!

---
CLIENT SPOTLIGHT
RICKY GLATIOTIS receives Special Olympics highest honors
Ricky Glatiotis has been participating in Special Olympics since the program began in 1968, when he was 11 years old!  He was awarded the first-ever Lifetime Achievement Award at the Special Olympics Hall of Fame luncheon in Denver on November 17, 2022, where he gave an acceptance speech in front of 1000+ people. He graciously thanked his coach, Brian Smith, Six Points' Director Daniel Bruce, everyone at Six Points, his family,  and friends at his residence, The Willows. Over the years Ricky has participated in a variety of events including softball throw, shotput, bowling, basketball, alpine skiing, and 50 and 100m walks.  He is currently Nordic skiing.
We are so pleased to offer our congratulations to this amazing man and athlete! Way to go, Ricky!

---
GARRY MAZZUCA…we say good-bye. 
Client Garry Mazzuca passed away at Porter Hospital in Denver on December 25th, 2022.  Born on January 5, 1949, Garry was a part of Six Points for almost 46 years.  In years past Garry was active refinishing furniture; in recent years he enjoyed beading and workouts on the treadmill. He was always passionate about trains, busses, music, and puppies.  We will greatly miss this "good guy" (one of his favorite expressions to greet others). Our sincere condolences to Garry's extended family.

---
Coming soon… have you heard about ReFUND CO? This state tax refund donation program allows you to use some or all of your refund to directly support our work in the community! Use our registration number 20073005916 www.RefundWhatMatters.org
Help us enhance the lives of the people we serve!
---
…the many faces of Daniel (continued):

DIRECTOR'S CORNER with Daniel Bruce – January 2023
HAPPY NEW YEAR!  I am always humbled this time of year because of all the generosity that happens in this community and what is bestowed on us at Six Points.
THANK YOU to so many incredible community members (near and far!) who gave support to the Six Points mission this year! YOU make our work possible.
In addition to many generous donations from individual donors, we recently received two grant awards from the Rocky Mountain Health Foundation and the Gunnison Home Association.
We look forward to a bright and productive season ahead for Six Points as we continue to seek the best ways to serve the community.
We wish you and your loved ones a very happy, healthy New Year!  Thank you again for all your support, and I look forward to a great year in 2023.
---
STAY TUNED:
January – Adaptive Sports Center activities continue
February –  Regional Special Olympics, Feb 9-11, Sunlight Ski Resort
March –  State Special Olympics, March 3-5, Copper Mountain Ski Resort
---
Thanks to Our Generous Grantors: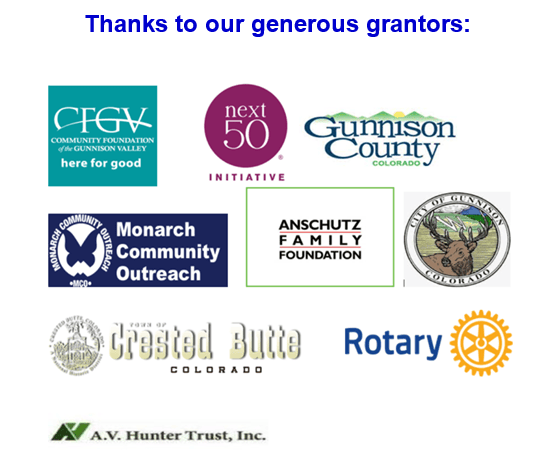 Opportunities to Donate:
Enroll in City Market's Community Rewards Program

Go to www.citymarket.com  to sign in or register an account
Click on "Account" located on the red band in the middle of the page
Scroll to the Bottom of the page to the Community Rewards Section and click "enroll now" or "re-enroll now"
You can either type in "six" or our # 10405 to choose Six Points as your organization. It's that simple and it costs you, the value card holder, nothing!
*All card holders need to re-enroll every January to support Six Points
---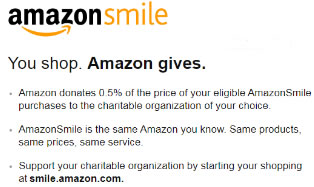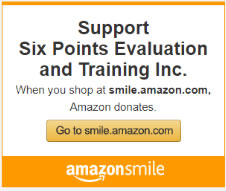 Copyright © 2022, Six Points. All rights reserved.

Six Points Provides

Education

Assistance

Training

Advocacy
Integration

Community